More Drones Reported Near Airports
Is There Some Agenda Behind This?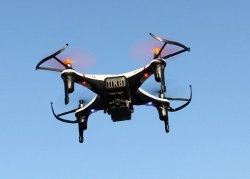 It just seems that nothing "Just Happens" these days.
Usually after some time passes, and with some probing research by the "New Media" (Non-Mainstream), something turns up.
More Drones Reported Near Airports
It just seems a little suspicious that all these drone sightings by pilots near airports seem a bit odd.
The professional commercial operators of drones aren't going to risk violating regs.
I just have a feeling that something is behind this.
Pilots report seeing more drones near airports, aircraft
Posted 9:47 pm, August 10, 2015, by Web Staff, Updated at 06:07am, August 11, 2015

DENVER — The number of airline pilots who report seeing drones near airports is rising. There have been some around the Newark Liberty International Airport in New Jersey during the past few days.
FOX31 Denver's Mark Meredith checked Federal Aviation Administration records to see if there are similar reports in Colorado.
More Drones Reported Near Airports