STEALING AMERICA Reviewed
New Book Released By Best Selling Author Dinesh D'Souza
D'Aouza Has Totally Nailed It With His Latest Book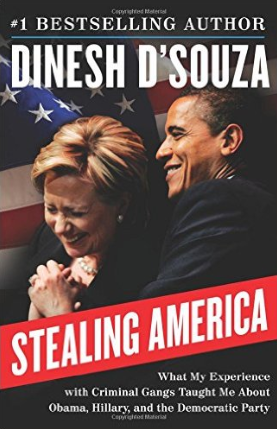 They tried to take him out with a phony political prosecution – but this guy is really tough!
He emerged from his incarceration with a renewed and intensified determination to expose the Criminal Kleptocracy that currently rules the United States today (and the world tomorrow).
The book is now available at Amazon and you could do a great service to what's left of your country and your fellow man (and woman) if you would pass this on.
 STEALING AMERICA Reviewed
Stealing America: What My Experience with Criminal Gangs Taught Me about Obama, Hillary, and the Democratic Party

Hardcover – November 17, 2015
by Dinesh D'Souza (Author)
28 customer reviews
See all 8 formats and editions


WHY HILLARY, OBAMA, AND THE ENTIRE DEMOCRATIC PARTY ARE NO BETTER THAN A GANG OF THIEVES

In the fall of 2014, outspoken author and filmmaker Dinesh D'Souza found himself hauled into federal court for improperly donating money to an old friend's Senate campaign. D'Souza pleaded guilty and was sentenced to eight months in a state-run confinement center. There he lived among hardened criminals—drug dealers, thieves, gangbangers, rapists, and murderers. Now the bestselling author explains how this experience not only changed his life, but fundamentally transformed his view of his adopted country.
Please pass this book on to as many people as you can. We have a world changing election coming and there's not much time left!
STEALING AMERICA Reviewed